Juvenile-Onset Recurrent Rhabdomyolysis Due to Compound Heterozygote Variants in the ACADVL Gene
Abstract
Very long-chain acyl-CoA dehydrogenase (VLCAD) deficiency is a rare autosomal recessive long-chain fatty acid oxidation disorder caused by mutations in the
ACADVL
gene. The myopathic form presents with exercise intolerance, exercise-related rhabdomyolysis, and muscle pain, usually starting during adolescence or adulthood. We report
[...] Read more.
Very long-chain acyl-CoA dehydrogenase (VLCAD) deficiency is a rare autosomal recessive long-chain fatty acid oxidation disorder caused by mutations in the
ACADVL
gene. The myopathic form presents with exercise intolerance, exercise-related rhabdomyolysis, and muscle pain, usually starting during adolescence or adulthood. We report on a 17-year-old boy who has presented with exercise-induced muscle pain and fatigue since childhood. In recent clinical history, episodes of exercise-related severe hyperCKemia and myoglobinuria were reported. Electromyography was normal, and a muscle biopsy showed only "moth-eaten" fibers, and a mild increase in lipid storage in muscle fibers. NGS analysis displayed the already known heterozygote c.1769G>A variant and the unreported heterozygote c.523G>C change in
ACADVL
both having disease-causing predictions. Plasma acylcarnitine profiles revealed high long-chain acylcarnitine species levels, especially C14:1. Clinical, histopathological, biochemical, and genetic tests supported the diagnosis of VLCAD deficiency. Our report of a novel pathogenic missense variant in
ACADVL
expands the allelic heterogeneity of the disease. Since dietary treatment is the only therapy available for treating VLCAD deficiency and it is more useful the earlier it is started, prompt diagnosis is essential in order to minimize muscle damage and slow the disease progression.
Full article
►

▼

Show Figures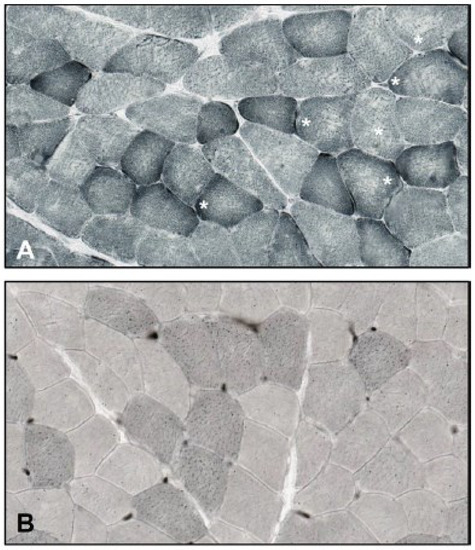 Figure 1