Violence Prevention Climate and Health-Oriented Leadership in German Emergency Departments
Abstract
Emergency departments (EDs) are high-risk environments for workplace violence. Research into techniques to prevent violence has less frequently explored the influence of leadership. This study aims to analyze the association of leadership with the prevention of violence using the concepts of health-oriented leadership
[...] Read more.
Emergency departments (EDs) are high-risk environments for workplace violence. Research into techniques to prevent violence has less frequently explored the influence of leadership. This study aims to analyze the association of leadership with the prevention of violence using the concepts of health-oriented leadership (HoL) and the violence prevention climate (VPC). This quantitative cross-sectional study was conducted through online surveys between November 2021 and March 2022 across Germany. A sample of 370 doctors and nurses working in German EDs were recruited. Perceptions towards VPC and HoL were compared between groups divided according to profession and position using independent
t
-tests or Mann–Whitney
U
tests. Separate multiple linear regression models for supervisors and employees analyzed the association between different profiles of HoL with VPC. Supervisors and employees showed significant differences in supervisor staff-care and VPC. Regression analysis demonstrated that supervisors' self-care and employees' assessment of supervisor's staff-care positively predicted all dimensions of VPC. This empirical study provides insights into the variable perceptions of different groups and the association of leadership profiles with the perceptivity of VPC. The results of this study can be used to emphasize the importance of HoL training for both employees and supervisors to improve communication and health-promoting behavior.
Full article
►

▼

Show Figures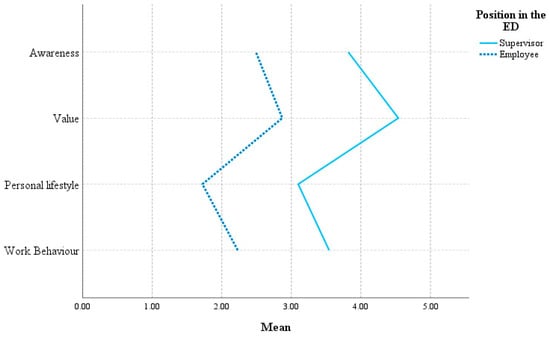 Figure 1