Flexible High-Performance and Screen-Printed Symmetric Supercapacitor Using Hierarchical Rodlike V3O7 Inks
Abstract
The emergence of the Internet of things stimulates the pursuit of flexible and miniaturized supercapacitors. As an advanced technology, screen printing displays vigor and tremendous potential in fabricating supercapacitors, but the adoption of high-performance ink is a great challenge. Here, hierarchical V
3
[...] Read more.
The emergence of the Internet of things stimulates the pursuit of flexible and miniaturized supercapacitors. As an advanced technology, screen printing displays vigor and tremendous potential in fabricating supercapacitors, but the adoption of high-performance ink is a great challenge. Here, hierarchical V
3
O
7
with rodlike texture was prepared via a facile template–solvothermal route; and the morphology, component, and valence bond information are characterized meticulously. Then, the screen-printed inks composed of V
3
O
7
, acetylene black, and PVDF are formulated, and the rheological behaviors are studied detailedly. Benefitting from the orderly aligned ink, the optimal screen-printed electrode can exhibit an excellent specific capacitance of 274.5 F/g at 0.3 A/g and capacitance retention of 81.9% after 5000 cycles. In addition, a flexible V
3
O
7
symmetrical supercapacitor (SSC) is screen-printed and assembled on the Ag current collector, exhibiting a decent areal specific capacitance of 322.5 mF/cm
2
at 0.5 mA/cm
2
, outstanding cycling stability of 90.8% even after 5000 cycles, satisfactory maximum energy density of 129.45 μWh/cm
2
at a power density of 0.42 mW/cm
2
, and remarkable flexibility and durability. Furthermore, a single SSC enables the showing of an actual voltage of 1.70 V after charging, and no obvious self-discharge phenomenon is found, revealing the great applied value in supply power. Therefore, this work provides a facile and low-cost reference of screen-printed ink for large-scale fabrication of flexible supercapacitors.
Full article
►

▼

Show Figures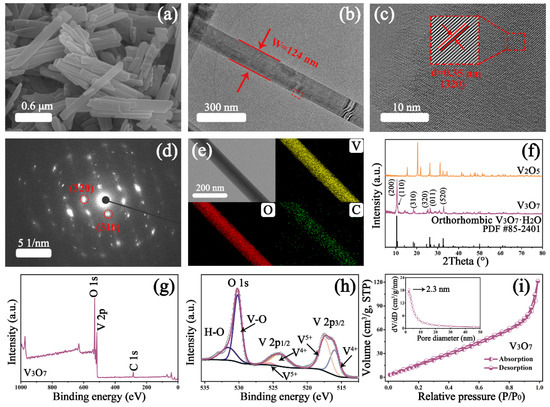 Figure 1