Liquid–Liquid Two-Phase Flow and Size Prediction of Slug Droplets in Microchannels
Abstract
The liquid–liquid two-phase flow and size prediction of slug droplets in flow-focusing microchannels with different downstream orifice sizes were investigated experimentally. Aqueous solution of 50%-glycerol and mineral oil with 4 wt.% surfactant sorbitanlauric acid ester (Span 20) were used as the dispersed and
[...] Read more.
The liquid–liquid two-phase flow and size prediction of slug droplets in flow-focusing microchannels with different downstream orifice sizes were investigated experimentally. Aqueous solution of 50%-glycerol and mineral oil with 4 wt.% surfactant sorbitanlauric acid ester (Span 20) were used as the dispersed and continuous phases, respectively. Three characteristic flow patterns were identified: slug flow, dripping flow, and jetting flow. The slug flow region decreased but the jetting flow region increased with the decrease in the size of the channel orifice. Afterwards, the universal flow pattern maps of the liquid–liquid two-phase in three microchannels were obtained based on dimensionless analysis. Furthermore, two slug droplet formation regions were found: when
φ
−1
Ca
c
< 0.01, the droplet formation was mainly driven by the squeezing force
F
p
, while when
φ
−1
Ca
c
> 0.01, both the squeezing force
F
p
and shear force
Fτ
contributed to droplet formation. Additionally, the prediction correlations of the dimensionless sizes of the slug droplets in both regions were established based on the flow rate ratio of the two-phase, the dimensionless orifice size, and the Capillary number of the continuous phase. The predicted results are in good agreement with the experimental values.
Full article
►

▼

Show Figures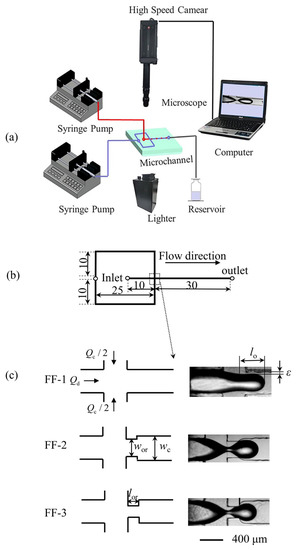 Figure 1